SCHWAN'S®
Premium Ice Cream and Frozen Yogurt
SCHWAN'S® Premium Ice Cream is a real premium ice cream dispensed through a technologically advanced machine. Now also available with the delicious taste of real frozen yogurt, in the same easy to dispense machine. See the variety of products available.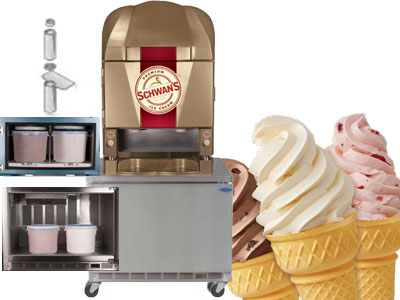 SCHWAN'S® Premium Ice Cream Machine dispenses without mixing, making for speedy operation and no down time. Just load and serve with a simple push of a button.
No mixing. No scooping. No kidding!
Cleaning is easy. Unlike other frozen dessert dispensers, SCHWAN'S® Premium Ice Cream Dispensers have only four parts to clean!
CONTACT US TODAY for more information, to order parts or re-order ice cream!

To see the machine in action, click the play button below or click here to view on YouTube!
Contact Lori at Schwan's Food Service, today!